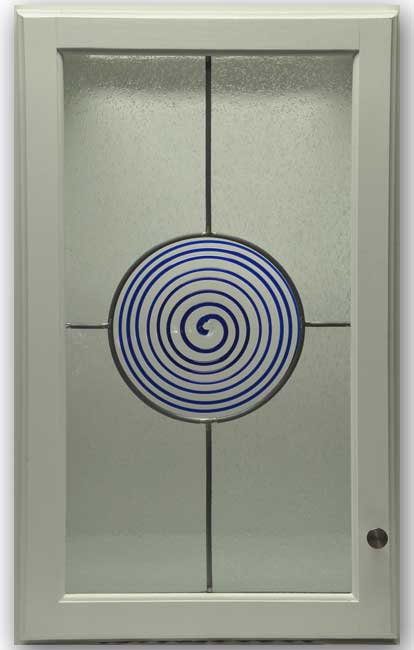 These glass inserts for kitchen cabinets are leaded glass panels made with a large clear rondel with a blue swirl surrounded by heavy seedy glass. All our glass inserts for kitchen cabinets are made to order. You can choose different colors and designs. For more cabinet glass designs click here.
One 8″ hand blown clear
rondel
with blue swirl
rondel available in different sizes and colors
clear hand blown medium seedy glass
traditional lead caming
prices range from $135. – $175. per square foot depending on size of rondel
to determine square footage multiply width times height in inches and divide by 144.
(height" x width")/144
plus shipping and tax if shipped in the state of Michigan
Ordering is simple.
Once you have the insert selected send us an email, guido@kuhldoors.com . Be sure to include in your email the name of the insert, how many you want, size along with the shipping address.
After we get your email we will send you a formal quote listing the total cost and ask for a $200. deposit along with the signed quote to get started.
Once we have a ship date we will ask for the balance of payment before shipping your insert.
Allow 8 weeks from receipt of deposit for delivery.
Place an Order or Ask a Question  guido@kuhldoors.com