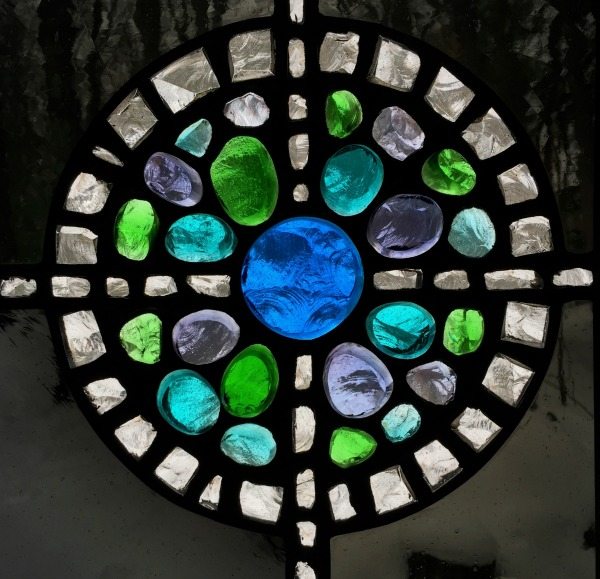 Custom Stained Glass
My design process for custom stained glass work is a little backwards. Normally, before I have a client I will see something or think of something to give me an idea and wonder how that something will look in glass. Patterns are a big inspiration, left over materials give me ideas or I discover a new technique I want to try. My process is backwards because I am not a paying client, I am just curious and I want to see what my 'idea' looks like. So I will go ahead and make a custom stained glass panel for myself. If I like what turns out then I find a client for the design. Clients can view my portfolio of designs and pick out a design they want for their own custom window. It is the way I work best, or rather I am most comfortable.
Once in awhile I get a client who likes my designs but wants something different. This project started with that kind of client. He wanted a new design using color for a free hanging panel. That is not how I normally work. I don't like creating something not knowing how it will turn out. Glass is tricky, you can think you know how a panel will turn out but until you put all the pieces together and hold it up to the light you never really know. I have a studio full of panels I was convinced would look great and are not too good. I hate to disappoint but I was willing to deviate from my normal method and had some ideas I wanted to try and if the client is willing I am too.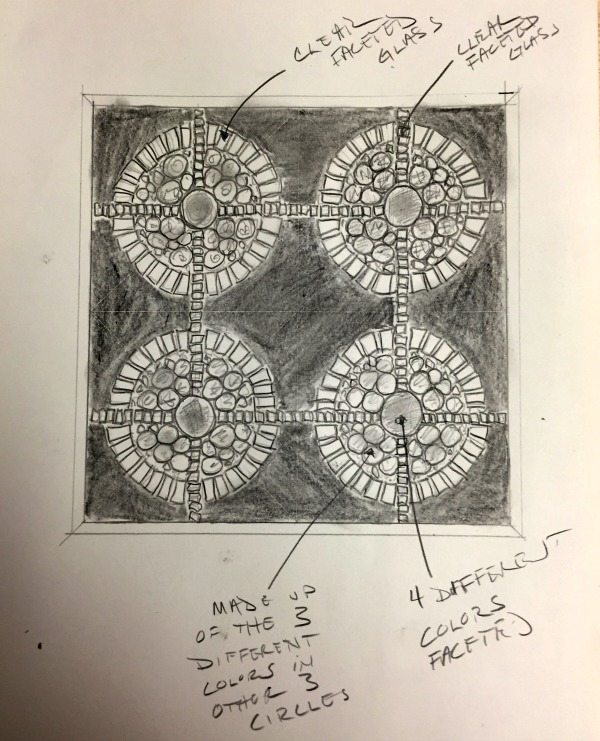 The sketch. This is just one of probably five different sketches. Takes me forever. I know I am not a great drawer but I am good enough to get by and convey a simple idea. My big idea for this project was my beveler. I have this big fancy beveler in the studio I inherited from my father and have been dying to use it. This was the project for my beveler. Fortunately my client was all in on my idea.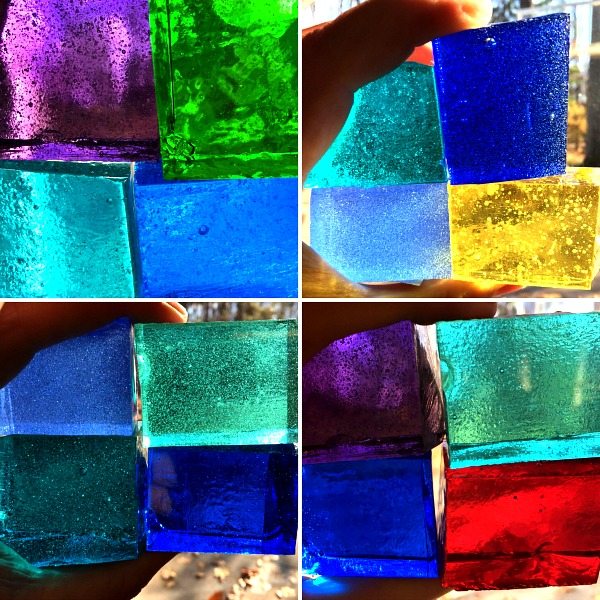 The most anxious part of this project was using color. If you look at my work I use very little color. My client was patient and through some back and forth we found a color scheme that worked. The glass I used is not traditional hand blown glass I normally use but dalle de verre. Dalle de verde glass is thick slab glass approximately the size of a sheet of 8″ x 11″ paper.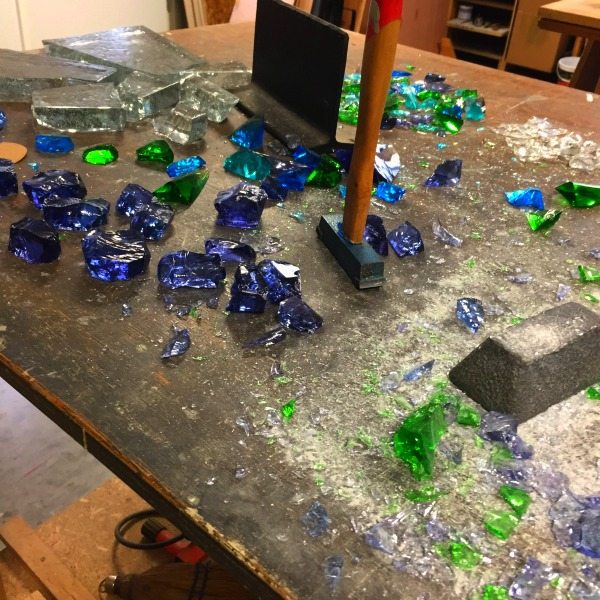 After the design is approved I go to work and start smashing up the dalle de verre glass using a special carbide tip hammer. Makes a huge mess and is kinda fun, except for the splinters of glass. I bleed for my work.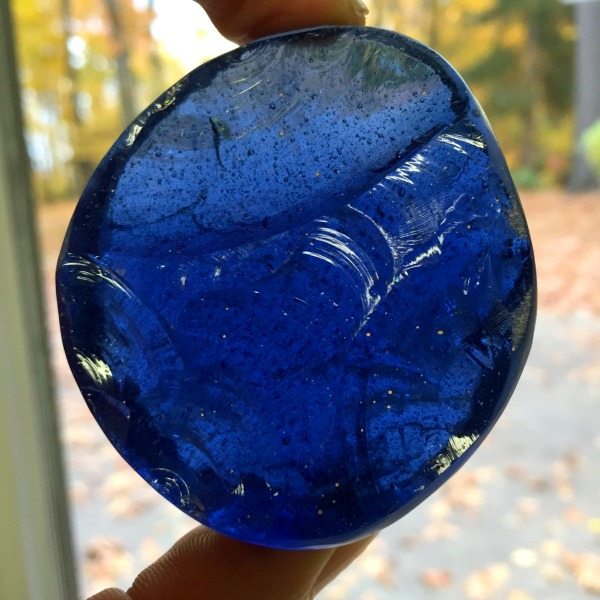 I take the broken chunks and go to work on the beveler. The results make me think this project is gonna be awesome.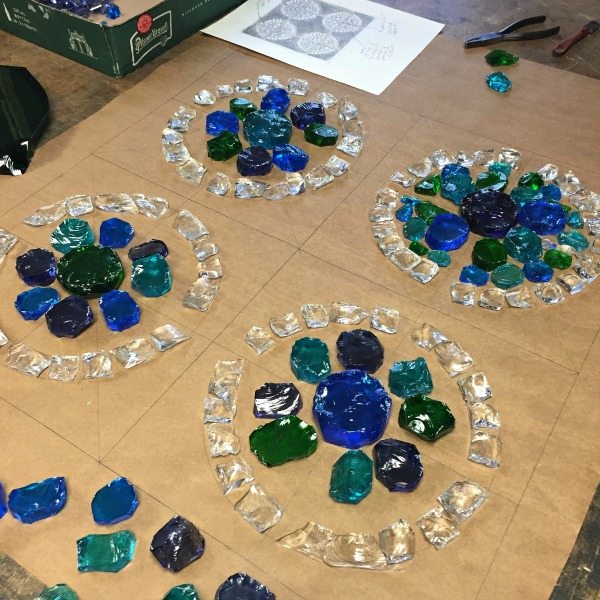 After the beveler I lay out the chunks. Maybe not so awesome. Have to wait and see.
Time to assemble the piece. This is a tedious, time consuming pain in the rear. I love what I do but some times I question what I do. I am confident the custom stained glass panel will look good, the question is how good. Is it going to turn our just 'nice' or is it going to be 'NICE !'.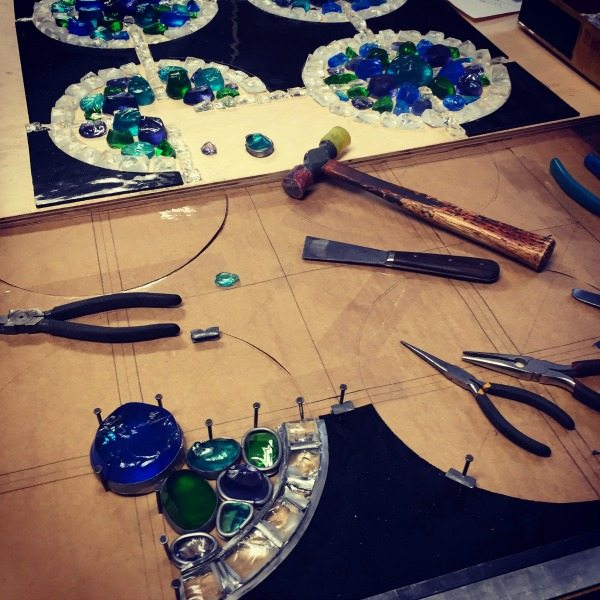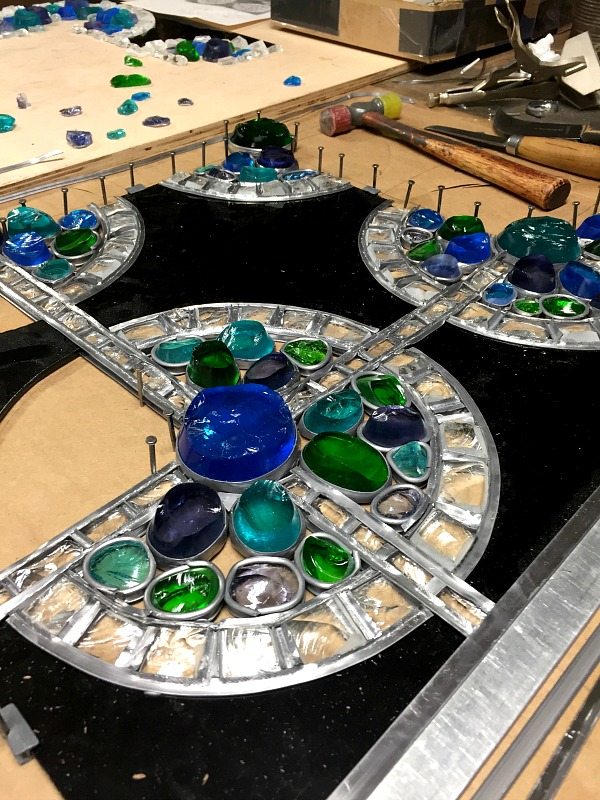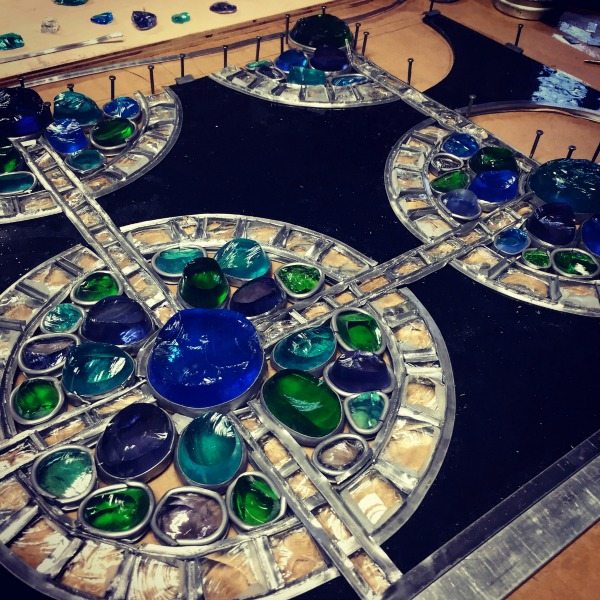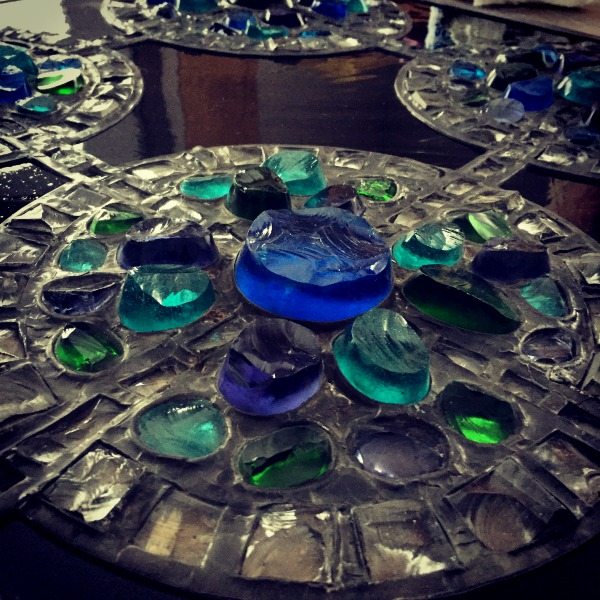 Assembling is a pain and so is soldering and cleaning. There are all these big chunks and sharp edges and crevices. Takes time and patience and I just want to see what it looks like.